MDF trying to break a base pattern.
MDF Chart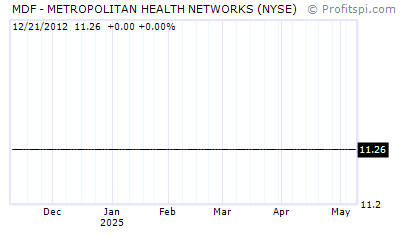 Metropolitan Health Networks Inc.
250 Australian Avenue South
Suite 400
West Palm Beach, FL 33401
United States - Map
Phone: 561-805-8500
Fax: 561-805-8501
Web Site:
MetCare
DETAILS
Index Membership: N/A
Sector: Healthcare
Industry: Health Care Plans
Full Time Employees: 209
BUSINESS SUMMARY
Metropolitan Health Networks, Inc., through its subsidiaries, operates provider service networks (PSN) in the United States. Its PSN provides and arranges healthcare services to Medicare Advantage beneficiaries who participate in a Medicare Advantage plan. The company offers Medicare, a national health insurance program that covers the cost of hospitalization, medical care, and related health services for the U.S. citizens aged 65 and older, qualifying disabled persons, and persons suffering from end-staged renal disease. As of December 31, 2009, the PSN provided healthcare benefits to approximately 35,500 medicare advantage beneficiaries. The company was founded in 1996 and is headquartered in West Palm Beach, Florida.