Sponsers

Donations accepted to help with server fees and other expenses. Thank you!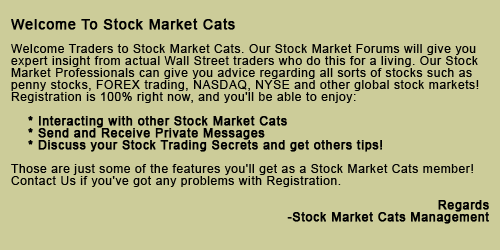 New Trader Q & A at Stock Market Forum, Penny Stocks, Forex, Nasdaq, Amex, Nyse, New Trader's Questions & Answers. All of our members share their information with other Stock Market Cats members, and we are all here to learn from each other. Let's discuss our different stock market trading styles and plans here.

| | |
| --- | --- |
| Forum Tools | Search this Forum |
| | |
New posts
Hot thread with new posts
No new posts
Hot thread with no new posts
Thread is closed
All times are GMT -4. The time now is

08:31 PM

.
Powered by vBulletin® Version 3.6.7
Copyright ©2000 - 2009, Jelsoft Enterprises Ltd.
Search Engine Optimization by
vBSEO
3.1.0
StockMarketCats.com