Sponsers

Donations accepted to help with server fees and other expenses. Thank you!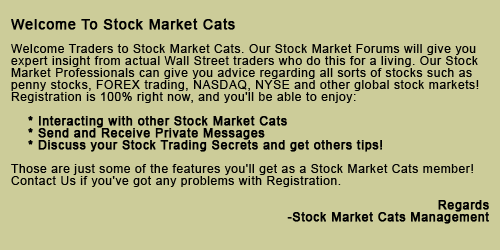 Members Meet New Members at Stock Market Forum, Penny Stocks, Forex, Nasdaq, Amex, Nyse, Introduce yourself and tell us a little about who you are. Welcome new Stock Market Cats! Stop in here, and introduce yourself and give us a little of your stock market information!

| | |
| --- | --- |
| Forum Tools | Search this Forum |
| | |
New posts
Hot thread with new posts
No new posts
Hot thread with no new posts
Thread is closed
All times are GMT -4. The time now is

08:33 PM

.
Powered by vBulletin® Version 3.6.7
Copyright ©2000 - 2009, Jelsoft Enterprises Ltd.
Search Engine Friendly URLs by
vBSEO
3.1.0
StockMarketCats.com